July 20, 2023
Posted by:

dexnovaconsulting

Category:

Business Analysis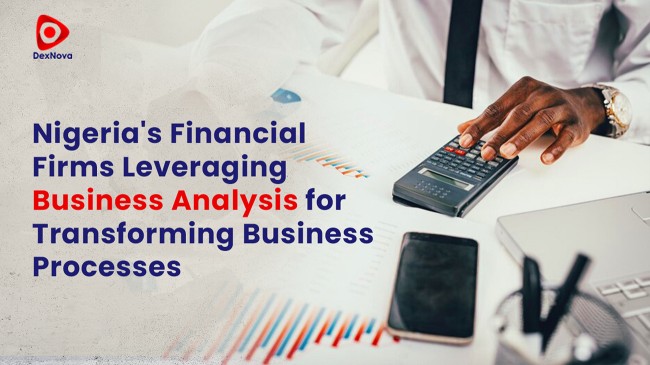 Nigeria's Financial Firms Leveraging Business Analysis for Transforming Business Processes
Introduction
Nigerian financial firms increasingly recognize the importance of leveraging business analysis to transform their business processes in today's rapidly evolving business landscape. By employing effective business analysis techniques, these firms can obtain critical insights into their operations, discover areas for development, and make sound decisions to enhance their overall performance and competitiveness in the market. This article explores how Nigeria's financial firms use business analysis to drive transformation and achieve sustainable growth.
Understanding Business Analysis:
Business analysis involves examining an organization's processes, systems, and strategies to identify areas of improvement and recommend solutions that align with the company's goals and objectives. It focuses on understanding business needs, eliciting requirements, analyzing data, and providing actionable insights to drive informed decision-making. In Nigeria's financial sector, business analysis is crucial in optimizing operations, enhancing customer experience, and ensuring regulatory compliance.
Enhancing Operational Efficiency:
Nigeria's financial firms use business analysis techniques to streamline and optimize their operational processes. These firms can enhance efficiency, reduce costs, and improve overall productivity by analyzing current workflows, identifying bottlenecks, and eliminating redundancies. For example, through process mapping and modeling, financial institutions can identify areas where manual tasks can be automated, leading to significant time savings and improved accuracy.
Improving Customer Experience:
Business analysis is also instrumental in improving the customer experience within Nigeria's financial sector. Financial firms can gain insights into customer preferences, pain points, and expectations by analyzing customer data, conducting surveys, and applying user-centered design principles. This information enables them to develop innovative products and services, tailor marketing strategies, and provide personalized customer experiences. Additionally, by leveraging business analysis, firms can optimize their digital platforms and mobile applications, ensuring seamless interactions and enhanced customer convenience.
Driving Data-Driven Decision-Making:
Nigeria's financial firms recognize data's value as a strategic asset. Business analysis enables these firms to collect, analyze, and interpret vast amounts of data to gain valuable insights. Financial firms can make data-driven decisions by employing data visualization tools, predictive analytics, and business intelligence techniques. For instance, by analyzing market trends, customer behavior patterns, and risk indicators, firms can identify new business opportunities, develop targeted marketing campaigns, and manage risks effectively.
Ensuring Regulatory Compliance:
In a highly regulated environment, Nigeria's financial firms must ensure compliance with various legal and industry-specific regulations. Business analysis helps these firms understand and interpret regulatory requirements, assess their impact on business processes, and implement necessary changes to achieve compliance. By employing business analysis techniques, such as gap analysis and risk assessment, financial institutions can identify areas where their operations fall short of regulatory expectations and take proactive measures to address these gaps.
Conclusion
Nigeria's financial firms are leveraging the power of business analysis to transform their business processes, enhance operational efficiency, improve customer experiences, and drive sustainable growth. By adopting business analysis methodologies and employing advanced data analysis techniques, these firms can make informed decisions, optimize their operations, and ensure compliance with regulatory requirements. As the Nigerian financial sector evolves, embracing business analysis will be crucial for firms to stay competitive, meet customer expectations, and navigate the complex regulatory landscape effectively.
---
Are you looking to take your career in business analysis to the next level?
Our Mid-Year Promo for comprehensive Certified Business Analysis Professional (CBAP) training is here to supercharge your career!
This training program is designed to equip you with the latest tools, techniques, and best practices in business analysis. Led by industry experts with extensive experience, our interactive sessions will empower you with the skills needed to tackle real-world business challenges and deliver impactful solutions.
What you will learn from our Business Analysis Professional Certification Training:
In-depth Knowledge: Master business analysis principles and methodologies.
Practical Skills: Apply your learning to real-world scenarios through hands-on exercises.
Recognized Certification: Earn a globally recognized credential upon completion.
Career Growth: Unlock exciting opportunities and increase your earning potential.
Networking: Connect with professionals and industry experts in our exclusive community.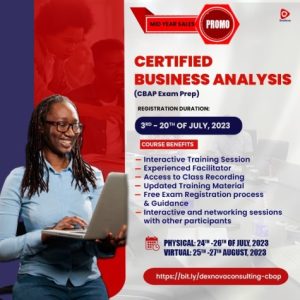 Don't miss this chance to invest in your professional growth and stand out in the competitive business analysis landscape.
Secure your spot in our Business Analysis Professional Certification Training program today!
To learn more about the program, including the course curriculum, schedule, and enrollment details, please click here: https://dexnovaconsulting.com/certified-business-analysis-professional-training/ to register or contact +234 706 156 0182
Best regards.