September 11, 2023
Posted by:

dexnovaconsulting

Category:

Articles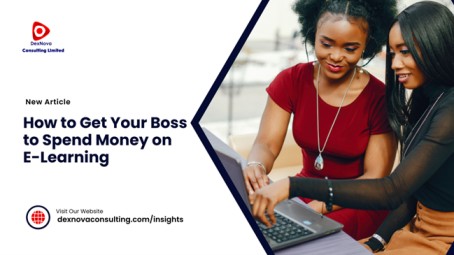 How to Get Your Boss to Spend Money on e-Learning
Persuading your employer to embrace eLearning!
You already know the benefits and what it can do for your company, but now you must convince your boss to invest in eLearning!
E-learning can significantly benefit your organization, but there's always a problem persuading your employer to embrace it.
Some employees may discover that their bosses require a little "push" to try out the newest trend in corporate development as online learning becomes the most common method of performing workplace training. In what way can you accomplish this? Appealing to someone's worldview is its most basic form to persuade them of something. As a leader, they want their business to stay on top of developments and hire only the most qualified candidates; fortunately, online training may assist them in doing just that. Here are a few easy ways to persuade your supervisor to spend Money on eLearning programs:
eLearning, as we all know, has become a next-generation online platform built for individuals and businesses to optimize productivity within and outside the workplace, but how can you persuade your employer to embrace it? Below are some of the few steps that can help because every employee wants the overall growth of their company.
Discuss Your Competitors
Talk about your Rivals
FOMO, which corresponds to "Fear of Missing Out" for those not on the latest jargon, will be your most ardent fan here. If your supervisor is a knowledgeable businessperson, they will go to any length to stay ahead of the competition, especially if they've discovered an efficient training strategy that works for their employees.
Use facts and data to show them the outcomes of specific educational modules or programs your rivals' employees participated in. When you cannot demonstrate the efficiency of eLearning within your company, comparing the two is the next best thing.
But what do you do if you require assistance locating something particular to your rivals? Thankfully, the best-performing businesses in this nation have all the outcomes. According to reports, more than 41% of Fortune 500 businesses have an eLearning training program in place as of 2014, and that percentage is probably higher now than it was then.
*To persuade your company, you will use facts and data to discuss how your competitors in comparable industries have embraced the learning management system and the excellent results that have yielded. No employee likes to be late; instead, they are more inclined to accept the concept.
Have A Business Plan
Develop a Good Business Plan
Initiatives to provide instruction were another solid proposal you should present to the boss. A solid business plan should highlight the drawbacks of your present training strategy (if any) and how these might be resolved by integrating eLearning into your organization to persuade your superiors to spend money on it.
This is the perfect opportunity to speak about any less-than-stellar company results you may have had. Explain how eLearning can solve these problems and raise the productivity of the workforce and the business.
Be sure to demonstrate how eLearning will benefit the staff and company with realistic and achievable targets. Once your boss can see the short and long-term advantages to keeping up with the times, they may be more inclined to give it a shot.
Your employer wants to be convinced beyond reasonable doubt that eLearning will fill the loopholes in the organization, especially time constraints, which will limit employees from going outside the company for traditional classroom training. 

Tell them about all the benefits of eLearning, which ranges from self-paced learning within the course validity, course-tracking, which ensures employee completes the expected before certificates can be issued, and a grade book where delegates can view their performances and can be sent to the HR manager.

Create and develop a good business plan to establish baselines and outline deliverables showing reasonable road maps to the achievable. If they believe it is realistic, they will be interested.
Show Them the Statistics
Outline the Facts & Figures
Although eLearning is still a relatively new playing field, there are some outstanding statistics out there to support your cause. With some research, you can combine relevant persuasive facts about your company and align them with your boss' mindset.
Through 2017, the online corporate market will expand, with 77% of American businesses providing their staff with virtual training for business owners.
With eLearning, retention rates rise by at least 25%, giving your business confidence that their training efforts will be worthwhile.
Compared to a typical training session, staff members can acquire up to five times the knowledge and retain it equally or better.
Forty-two percent of American businesses say they have increased their income through e-learning efforts.
Valid statistics support your persuasion, although eLearning is a recent innovation. Therefore, place the available facts on the table to gain your employer's conviction of the eLearning platform. 

There has already been a 15.2% growth of eLearning in Africa. Companies now have an incredible 34% better response to customer needs.

eLearning provides 24/7 access to learning from anywhere. Instead of the traditional classroom style, organizations now have 37% greater employee productivity.

Small and medium companies have keyed into this next-generation initiative to boost their productivity by 26% to deliver quality goods.
Companies that have a strong learning culture do better than their competitors, having 58% more prepared to meet future demands.
Money Talks
Cost Effect
Often, the best way to your boss's heart is through their purse strings, so don't be afraid to discuss the monetary savings that eLearning can bring. Any good employer will jump at the chance to cut costs while improving efficiency and quality, precisely what eLearning will do for their business.
Show your boss the figures from the time saved by keeping their workstations noticed. At the same time, they spend all day learning the price of employing pricey trainers to recover the knowledge lost by the following day. Give specific examples of previous costs the organization has experienced due to implementing out-of-date training programs and how they have failed.
The amount of money that may be saved by establishing an eLearning program relying on traditional approaches was highlighted in a report published by IBM in 2014. A corporation will profit $30 for every $1 invested in this training, resulting in a 50% increase in productivity over the previous level.
One of the benefits of eLearning is its cost-effectiveness. Every employer wants to maximize profit and reduce costs. The cost of hiring a facilitator to train staff can be scrapped because eLearning provides twice as much information with its training materials that can be reviewed over time.
Focus on The Staff
Any good employer knows their company is only as good as its staff, and keeping your team happy and engaged is crucial to the organization's overall success. With a new generation of employees focusing on these modern technologies cropping up, investing in something appealing to all ages has never been more urgent.
According to research from the American Society for Training and Development (ASTD), businesses that spend in training their staff earn 218 percent more per worker than those that don't or give very little.
Your team will remain engaged and feel appreciated if you provide current and pertinent training. The company will benefit from a healthier and more inspired workforce with a more significant profit margin and a more pleasant working environment.
Do you still strive to persuade people to invest in eLearning? Keep hope. When a film is conducted in a certain way for an extended period, it can take some time to transform the company's collective mentality. Continue to bombard your supervisor with facts and data about the accomplishments that eLearning can enable and solicit the aid of other employees to be your cheerleaders. They will eventually arrive at the party and must thank you for its success. Companies that have a strong learning culture outperform their rivals.
The most significant problem that businesses face today is the skills gap. Companies need to develop a company-wide learning culture that keeps employees on the cutting edge, which will be done faster and more consistently than ever before and support the company's position for success.
Conclusion
Hiring, training, and onboarding new workers all cost money. Still, they are worthwhile expenditures that will help newly hired employees improve and maintain their skills, expertise, and value inside the firm. It will keep highly skilled workers from defecting to a competitor, enhancing your organization.
Through eLearning, you will find it lowers costs related to employee turnover. It will increase productivity, produce a happier, more skilled workforce, promote teamwork, and have a greater chance of business success. Keep showing them the potential of eLearning even when they need to buy in; they will realize the prospects eLearning can bring sooner.