August 21, 2023
Posted by:

dexnovaconsulting

Categories:

PMP, PMP Exam Schedule, Project Management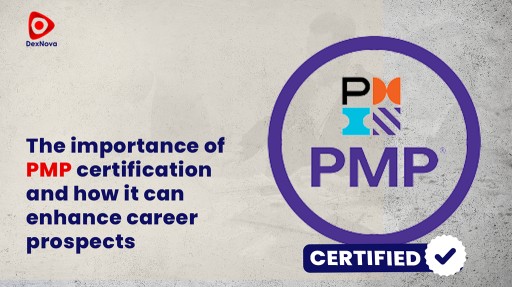 The Importance of PMP Certification and How it Can Enhance Career Prospects
What is Project Management Professional (PMP)
The Project Management Professional (PMP) certification is valuable for individuals seeking to enhance their project management skills and advance their career prospects. Here are some key reasons why the PMP certification is essential and how it can positively impact your career:
1. Global Recognition:
PMP certification is globally recognized and respected in project management. It demonstrates that you have a standardized and consistent understanding of project management concepts, methodologies, and best practices. This recognition can help you stand out nationally and internationally in the job market.
2. Career Advancement:
PMP certification can significantly enhance your career prospects by opening opportunities for higher-level roles and positions. Many employers seek PMP-certified professionals to lead and manage projects due to the assurance of their expertise.
3. Skill Validation:
The PMP certification process involves a rigorous examination that tests your knowledge of project management processes, tools, techniques, and methodologies. By obtaining the certification, you prove your proficiency in these areas, demonstrating your ability to manage projects from initiation to closure effectively.
4. Increased Earning Potential:
PMP certification is often associated with higher earning potential. Various studies show that PMP-certified professionals make more than their non-certified counterparts in the same roles. The investment in obtaining the certification can lead to a rewarding return in terms of higher salaries and compensation packages.
5. Credibility and Trust:
PMP certification builds credibility and trust with employers, clients, and team members. It signals that you possess a strong foundation in project management principles and can be relied upon to deliver projects on time, within budget, and with high-quality outcomes.
6. Expanded Network:
A PMP certification can provide opportunities to connect with other project management professionals through study groups, workshops, and networking events. An expanded professional network can lead to valuable collaborations, partnerships, and mentorship opportunities.
7. Adaptability:
The PMP certification covers many project management methodologies, including traditional (waterfall) and agile approaches. This versatility equips you to manage projects in different industries and contexts, making you a versatile asset to employers.
8. Organizational Value:
Organizations value PMP-certified professionals because they can contribute to improved project success rates, better risk management, and more efficient resource allocation. It increases client satisfaction and a competitive advantage in the market.
9. Continuous Learning:
Maintaining PMP certification requires ongoing professional development through earning Professional Development Units (PDUs). This commitment to continuous learning ensures that PMP-certified professionals stay updated with the latest trends and advancements in project management.
Conclusion
The PMP certification is important for enhancing career prospects in project management. It validates your skills, enhances your credibility, and opens doors to new opportunities and increased earning potential. Whether you aim to advance within your current organization or seek new horizons, the PMP certification can provide a strong foundation for success in project management.
Cultivate Your Project Management Career with PMP Certification Unlocking Global Recognition, Advancement, and Expertise PMP training in Nigeria
Click here >> https://dexnovaconsulting.com/project-management-professional-training/