May 26, 2023
Posted by:

dexnovaconsulting

Category:

Certified Maintenance and Reliability Professional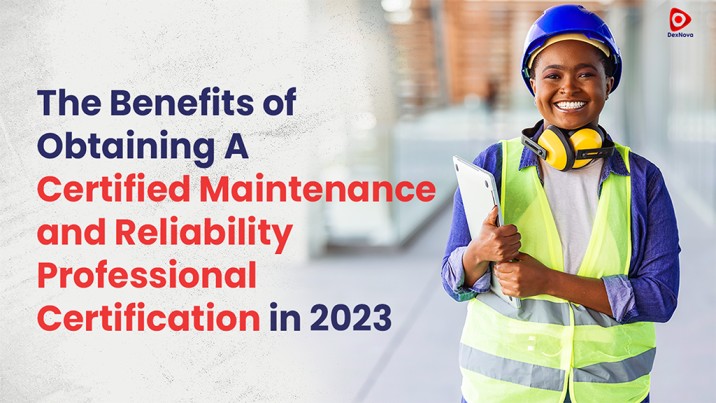 The Benefits of Obtaining a Certified Maintenance and Reliability Professional Certification in 2023
What is CMRP? 
The Certified Maintenance & Reliability Professional (CMRP) program is the leading credential for certifying the knowledge, skills, and abilities of maintenance, reliability, and physical asset management practitioners and professionals.
The CMRP is accessible through the Society for Maintenance & Reliability Professionals (SMRP) and its certifying organization SMRPCO. It is the only certification program approved by the American National Requirements Institute (ANSI), which follows the International Organization for Standardization (ISO) requirements for accreditation.
For over 20 years, the Society for Maintenance & Reliability Professionals (SMRP), a not-for-profit professional society, has offered world-leading certification programs for maintenance, reliability, and physical asset management professionals.
Organizations increasingly emphasize maintenance and reliability management in today's rapidly evolving industrial landscape to optimize asset performance and ensure operational efficiency. To meet the demands of this changing field, professionals seeking to excel in maintenance and reliability roles often pursue certifications to demonstrate their expertise and commitment to ongoing professional development. One such certification is the Certified Maintenance and Reliability Professional (CMRP) certification.
Top 7 benefits of obtaining a CMRP certification in 2023.
Enhanced employment Prospects:

A recognized professional certification increases your customers' hiring in a competitive occupational atmosphere. The CMRP certification is valued in the maintenance and reliability field and displays your commitment to lifelong learning and professional development. Employers often seek certified professionals who possess the necessary knowledge and skills to drive improvements in maintenance practices. By obtaining a CMRP certification, you increase your visibility to employers, open doors to new opportunities, and advance within your current organization.

Industry Recognition:

The CMRP certification carries substantial industry recognition and is a testament to your maintenance and reliability management competence. It signifies that you have comprehensively understood vital concepts, methodologies, and best practices in the field. This recognition enhances your professional credibility among peers, employers, and industry stakeholders, distinguishing you as a knowledgeable and skilled professional.

Expanded Knowledge and Skills: 

The CMRP certification process involves rigorous preparation and examination, equipping you with an extensive knowledge base and diverse skills. Throughout the certification journey, you delve into various areas, including maintenance strategies, reliability-centered maintenance, asset management, predictive maintenance, and more. This broad range of expertise allows you to tackle complex challenges in maintenance and reliability, make informed decisions, and implement effective strategies that drive optimal equipment performance and minimize downtime.

Increased Earning Potential: 

Certified professionals often enjoy enhanced earning potential. Employers recognize the value of specialized skills and expertise from a CMRP certification. As a certified professional, you may be eligible for higher starting salaries or salary increases compared to non-certified counterparts in similar roles. The certification demonstrates your commitment to professional development and your ability to contribute to the organization's success, thus increasing your market value.

Improved Job Performance: 

One of the primary benefits of earning a CMRP certification is the practical knowledge and best practices gained throughout the certification process. This knowledge can be applied directly to your role, allowing you to optimize maintenance and reliability processes, enhance asset performance, and reduce downtime. By implementing effective maintenance strategies, utilizing reliability-centered maintenance principles, and leveraging predictive maintenance techniques, you can significantly improve overall operational efficiency and contribute to the organization's bottom line.

Networking Opportunities:

The CMRP certification provides access to a vast professional network of maintenance and reliability experts, practitioners, and thought leaders. This network allows you to connect with like-minded professionals, share knowledge, exchange ideas, and collaborate on industry challenges. Networking can lead to valuable partnerships, mentorship opportunities, exposure to new perspectives, and emerging maintenance and reliability management trends.

Continuous Professional Development: 

In today's dynamic business environment, staying updated with industry trends, technologies, and best practices is crucial for professional growth. The CMRP certification encourages continuous learning and professional development. Maintaining the accreditation requires ongoing education, enabling you to remain at the forefront of the maintenance and reliability profession. By continuously expanding your knowledge and staying informed about advancements, you can adapt to evolving industry demands, increase your expertise, and ensure your skills remain relevant throughout your career.
Conclusion
Obtaining a Certified Maintenance and Reliability Professional (CMRP) certification in 2023 offers numerous benefits that can positively impact your career trajectory. From enhanced career prospects and industry recognition to expanded knowledge and skills, increased earning potential, improved job performance, networking opportunities, and a commitment to continuous professional development, the CMRP certification equips you with the tools and credentials needed to excel in maintenance and reliability management.
In addition, by investing in your professional growth and staying ahead of industry trends, you position yourself as an asset to employers and establish yourself as a trusted expert in the ever-evolving world of maintenance and reliability.
REGISTER NOW FOR OUR CMRP TRAINING