May 30, 2023
Posted by:

dexnovaconsulting

Category:

PMP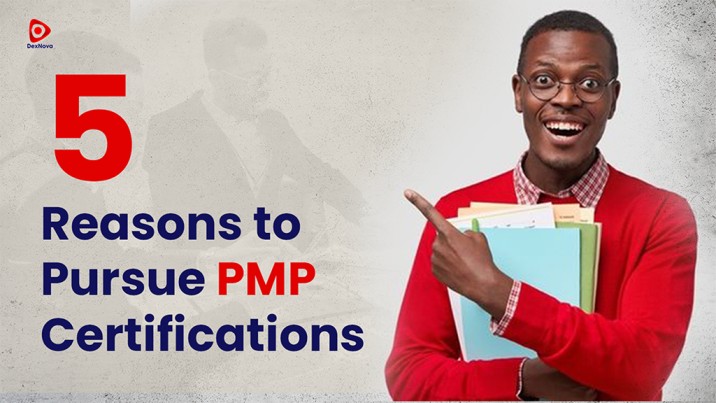 5 Reasons to Pursue PMP Certifications
Project management is pivotal in driving successful outcomes and achieving organizational goals across industries. In this dynamic and competitive business environment, professionals with the skills, knowledge, and credentials to manage projects effectively are in high demand. One such credential that stands out is the Project Management Professional (PMP) certification. Globally Recognized as a symbol of excellence in project management, the PMP certification offers numerous benefits to individuals seeking to enhance their career prospects and significantly impact their organizations.
Below here are the 5 Reasons to pursue PMP Certifications:
Improve Job Security:
A PMP certification can significantly enhance job security in today's competitive job market. Employers value professionals with the PMP credential as it demonstrates their competence and expertise in project management. In addition, by obtaining the certification, you position yourself as an asset to the organization, making it more likely that your role will be secure even during organizational changes or downsizing.
Increased earning potential:
By obtaining a PMP certification, you position yourself for higher earning potential within the project management field. PMP-certified professionals often command higher salaries compared to their non-certified counterparts. According to PMI's "Earning Power: Project Management Salary Survey," individuals with PMP certification earn higher median salaries than those without the certification.
Career Advancement:
A PMP certification opens doors to more career opportunities. Many organizations prioritize hiring or promoting individuals with PMP certification for leadership roles, as it signifies their ability to successfully manage projects and lead teams. It can also increase earning potential as PMP-certified professionals typically command higher salaries.

Industry Recognition:
The PMP certification is globally recognized and highly respected in project management. It demonstrates your commitment to the profession and validates your knowledge and skills. As a result, employers often prefer or require PMP certification for project management roles, giving you a competitive advantage in the job market.
Networking Opportunities:
PMP certification allows you to connect with other project management professionals. Joining professional associations and attending industry events can help you expand your network and learn from experienced practitioners. In addition, it provides opportunities for knowledge sharing, mentorship, and collaboration, further enhancing your professional development.
Conclusion
obtaining a Project Management Professional (PMP) certification can be a transformative step in your project management career. With its industry recognition, career advancement opportunities, comprehensive knowledge, networking potential, and increased project success rates, the PMP certification offers many benefits that can propel your professional growth and success.
If you are passionate about project management and aspire to take on challenging roles, now is the time to consider pursuing the PMP certification. Take the initiative to explore the requirements, study the Project Management Body of Knowledge (PMBOK) guide, and start preparing for the PMP exam. Join professional associations, attend seminars, and connect with fellow project management professionals to expand your network and gain valuable insights.
Remember, investing in your professional development is an investment in your future. By earning your PMP certification, you position yourself as a competent and credible project management expert, opening doors to exciting career opportunities and increasing your value in the marketplace.
So, seize the opportunity, take the first step, and embark on your journey toward becoming a certified Project Management Professional. Your career and project management success awaits!
Register for PMP bootcamp training here: https://www.dexnovaconsulting.com/bootcamp/
Note: You can also click the link below register for any of our certification courses
Register here: https://www.dexnovaconsulting.com/training-form